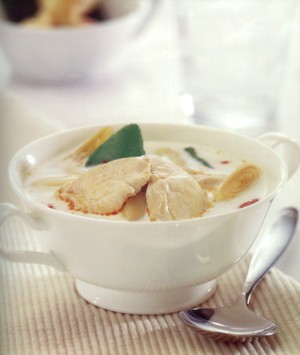 Tom Kha Gai (Thai Chicken Coconut Milk soup)
Ingredients:

• 1 1/2 cup Chicken Stock
• 2 ½ cup or 2 can of 13.5 oz Sun & Dragon Coconut Milk fat 12-14%
• 3 pieces Dried galangal – (Kha) or 6 pieces Fresh galangal
• 4 Stalks Fresh lemon grass, -bruises, cut into 2-inch length
• 6 Fresh Serrano chills, -sliced into rounds
• 1 Whole chicken breast
• 4 table spoon Fish sauce (Nam pla)
• 5 Fresh Kaffir lime leaves (makrut), if available
• 2 Fresh limes, juice
• 2 table spoon Chopped coriander leaves
Directions:

1. Cut into 1/2 inch pieces (with or without bones) Combine Sun & Dragon coconut milk, chicken stock, galangal, lemon grass and 4 of he chilies in a saucepan.
2. Bring to a boil. Reduce heat and simmer for 20 minutes.
3. Strain stock; discard galangal and lemon grass.
4. Return stock to a boil, add chicken an simmer until tender, about 2 minutes.
Add fish sauce, citrus leaves and remaining chilies. Stir in the lime juice.
Garnish with coriander.
Tips
Shake the can of Coconut milk before use because the cream of coconut milk is usually lodged at the top.